Of course, every marketplace company wants to crack the top 10. But perhaps more interesting than the ranking itself is what the list reveals about shifting consumer behaviors (and emerging business models) as we look ahead. Here are just a few highlights from the fourth edition of the a16z Marketplace 100, which we'll unpack in detail below:
After two years of unprecedented growth, ecommerce penetration has returned to pre-pandemic levels. However, the way we shop has changed, as consumers are now buying sports cards via live drops and discovering sneakers curated by a personal algorithm.
Consumers opted to repair their cars, rather than buy new ones, a fallout from continued supply chain disruptions and inflation. This behavioral shift had big implications for auto parts marketplaces like RockAuto—this year's highest-ranking newcomer at #7.
There's big money in mental health, particularly for marketplace companies that help consumers navigate the perplexing insurance policies governing many therapy practices. Four companies on this year's list help patients find in-network providers.
Nearly every ticketing company on the Marketplace 100—a noteworthy eight—outperformed already impressive 2022 numbers. But there's reason to think this trend may level off in the coming months (despite the Eras and Renaissance tours).
Marketplaces are getting opinionated, with platforms that carefully curate supply popping up across categories like food, clothing, and pets. This is a stark departure from the wave of "anyone can list" marketplaces that dominated 2010 to 2020.
While the top of the Marketplace 100 remains stable—Instacart has claimed the number one spot for three years running—younger companies like Whatnot (#9), TodayTix (#54), and Headway (#56) are growing quickly and showing signs of breaking out.
2022 to Today: Freshmen & Graduates
Thirty-four newcomers broke into the Marketplace 100 for the first time this year. That includes five companies that debuted in the top 20—SSENSE, Apmex, Slice, DHGate, and Zazzle—and one that landed in the top 10: RockAuto.
One point to note here: Though some of these high-ranking companies are new to the Marketplace 100, that doesn't necessarily mean they're startups. Zazzle, Apmex, DHGate, and RockAuto, for example, are each well established, having been around for more than 15 years. Some of the shuffle near the top of the Marketplace 100 has to do with market forces, which we'll discuss in greater detail below; some of it is the result of this year's switch to a data source that covers more companies, more comprehensively. Had we relied on Consumer Edge's data last year, for example, Zazzle likely would have made that list, as well.
The number of freshmen on the Marketplace 100 is similar to last year's ranking, when 37 joined the list. But the most surprising takeaway here is the growth rate of this year's freshman class. On average, newcomers grew 1.5 times faster than incumbents, representing opportunity emerging across categories. In a year in which inflation and declines in consumer spending were the macro headlines, marketplaces that delivered real value to consumers were still able to break out.
Unlike last year's Marketplace 100, in which a record 19 companies "graduated" through IPO, SPAC, or acquisition, only four companies exited the list in 2022. Two of them braved the public markets via SPAC: the dog walking marketplace Wag (#39 last year) and the car sharing platform Getaround (#57 last year). The other two graduated via acquisition: the trading card marketplace TCGPlayer (#12 last year) was bought by eBay, and the mobile mechanic service YourMechanic (#74 last year) was acquired by Wrench.
The volatile financial market over the course of 2022 discounted or called into question almost every company's valuation, causing more companies to stay private. As startups focused on conserving cash, we also saw a decline in the trend of marketplaces acquiring similar marketplaces in an attempt to "lock down" a category. Past examples of this include the flex office provider Industrious buying Breather, an on-demand workspace platform, in 2021, or Uber buying Postmates in 2020. In addition, in years past we noted the rise of marketplace acquisitions to fuel expansion into a new category, such as Etsy buying the social ecommerce company Depop. The jury's out on whether this activity will heat back up as the markets stabilize.
Here are some of the key trends from this year's data.
1.
It's not just a transaction: Consumers seek out personalized and entertaining shopping experiences.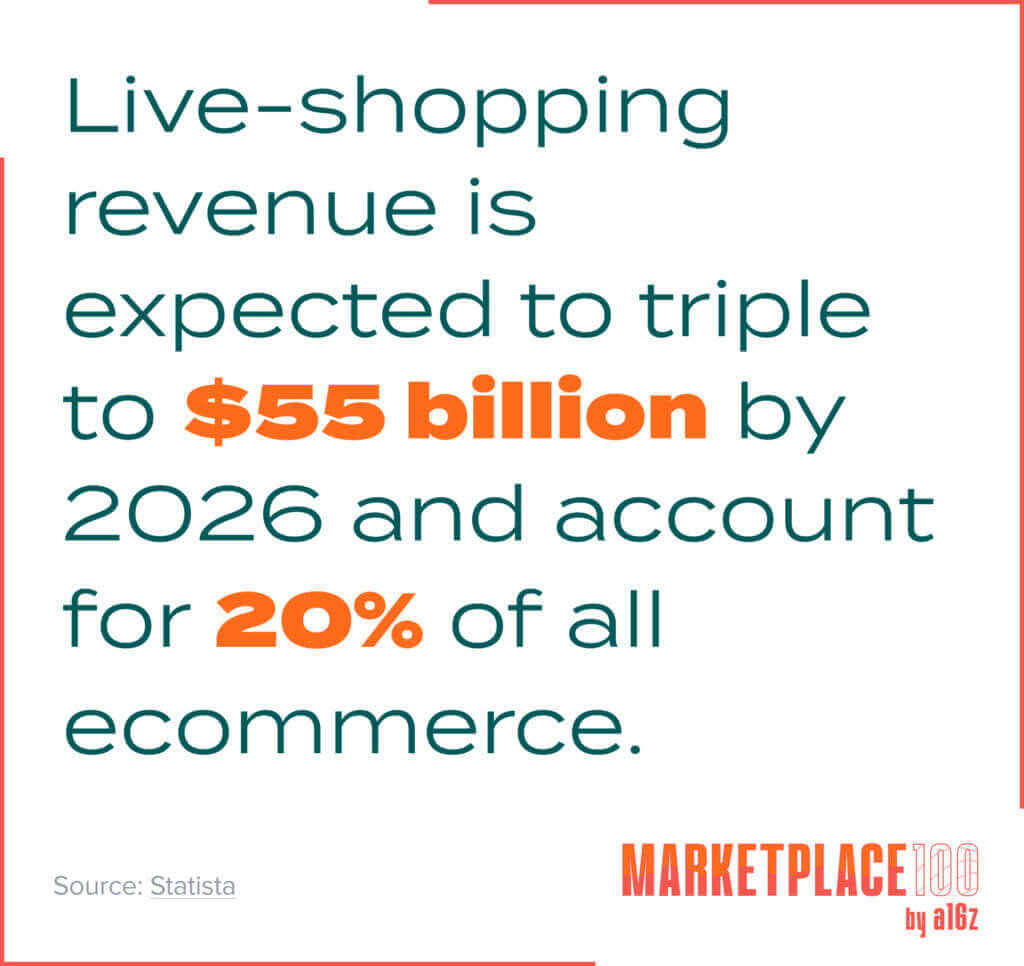 After a Covid-induced spike in ecommerce (in which 10 years of growth were crammed into three months), we seem to have settled back into a more normal balance between brick-and-mortar and online stores (a split of approximately 85% brick-and-mortar vs. 15% online). However, this doesn't mean consumers are shopping in the same places.
Of the three new entrants to break into the top 15 this year, two are in the shopping category. Static ecommerce sites are making way for more interactive, curated, and even gamified digital shopping experiences.
After jumping 73 spots last year, live-shopping app Whatnot (where sellers hawk their wares in video shows) cracked the top 10 at #9. Though Whatnot's original focus was on collectibles, they've since expanded into over a dozen other product categories, including sneakers, vintage clothes, jewelry, and more. The platform has become a place for live sellers to build businesses: more than 100 users raked in close to a million dollars each on the platform in 2022. Whatnot ascent may be a harbinger of what's to come in U.S. ecommerce: after all, live-shopping is already a $137 billion a year industry in China.
Just a few spots down, newcomer SSENSE debuts at #11. SSENSE is a fashion marketplace for consumers to discover items from more than 700 luxury and independent retailers. Amid the death of the department store, consumers are looking for a digital home to discover emerging brands—or find items from known brands at compelling discounts. SSENSE caters mostly to millennial and Gen Z shoppers, and 80% of their users are between the age of 18 and 40.
Thirty-eight percent of all Marketplace 100 newcomers are in the shopping category this year, compared to only 5% last year. Other than SSENSE, the highest ranking freshmen are precious metals marketplace Apmex (#12), custom design platform Zazzle (#20), and electronics resale site BackMarket (#34).
Another breakout ecommerce company is Temu, the discount-focused shopping app. Because it is owned by the publicly traded Chinese firm Pinduoduo, Temu wasn't eligible for inclusion in the Marketplace 100. Still, the app's incredible growth over the past six months makes its business model one to watch.
Since launching in September 2022, Temu quickly became one of the top-downloaded apps across the Apple App and Google Play Stores. The app represents a new kind of AI-powered, social commerce experience for the U.S., inspired by shopping trends in Asia. In Temu's hyper-curated algorithmic feed, consumers are served personalized recommendations of discounted items from thousands of merchants. Shopping is literally gamified, and users receive credits for inviting friends and engaging daily.
If we annualized Temu's first four months of data—and if it were private—the company would have cracked the top 10 of this year's Marketplace 100.
Temu is now actively following TikTok's marketing-heavy U.S. launch strategy. Like TikTok, it has a deep-pocketed Chinese parent company willing to invest huge sums into customer acquisition so it can continue growing outside the Chinese market. And like TikTok (as well as fellow Chinese shopping app SHEIN), it also needs a large number of users for its recommendation algorithm to work.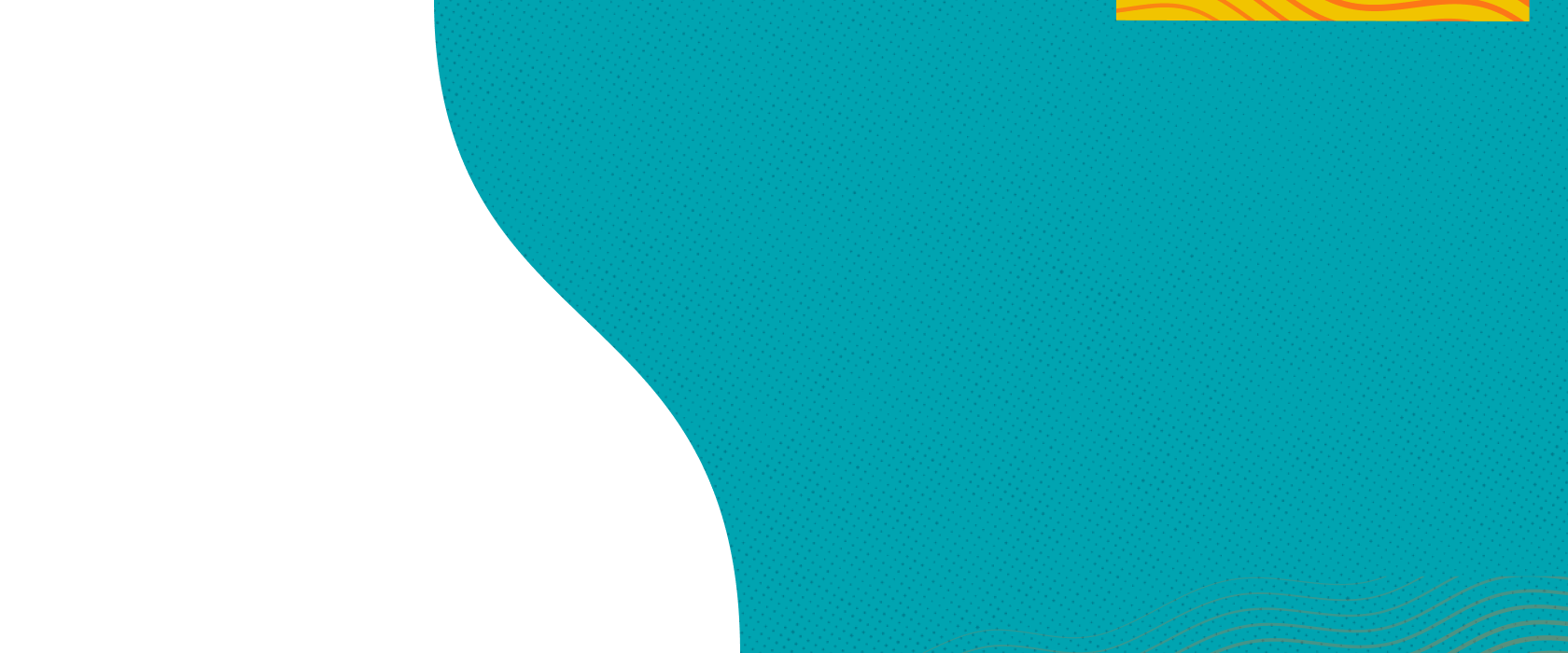 2.
Climbing car prices push consumers to repair and refurbish, rather than buy new (or used).
Other than shopping, another category saw several new entrants debut near the top of the Marketplace 100: automotive. There are six automotive marketplaces in this year's list, of which all three freshmen made the top 30.
Three automotive companies that graced last year's list maintained spots on the Marketplace 100: SpotHero, a digital parking marketplace; Everwash, a subscription for unlimited car washes; and Way.com, an app for reserving parking, getting car insurance, booking car washes, and more. But all three freshmen in the automotive category focus on something new: car parts. Those are RockAuto (#7), PartsGeek (#26), and CarID (#27). These companies are notable for multiple reasons. For one, all three are more than 15 years old—RockAuto has been around for over two decades. They're receiving millions of visits a month, according to SimilarWeb. In fact, this year's Marketplace 100 saw an increase of 50% in the automotive category over last year.
What drove this trend? Again, we look to the supply chain. Massive inventory shortages started to drive up prices for both new and used vehicles in 2021, but this boiled over last year. New cars sold for an average of $700 over MSRP for the first six months of the year, and reached an all-time high in August.
Used car prices experienced a similar trend, reaching an all-time high in January 2022 and spiking again in July 2022.
As a result, auto sales in 2022 were the lowest in nearly a decade, with an estimated 8% to 9% decline in vehicles sold in the United States. Instead of making new purchases, consumers fixed their existing vehicles—a trend that's clearly visible in the rise of car part repair marketplaces like RockAuto. Changes in the used car price index fairly closely tracked changes in monthly GMV for this subset of automotive marketplaces.
Another similarity among the three car parts marketplaces is that all are bootstrapped, which only 12 companies on this year's list can claim.
Alongside RockAuto (#7), the highest-ranked bootstrapped companies are Valve (#2), Apmex (#12), and DHGate (#18). Other bootstrapped companies on the list include the wholesale clothing and accessories platform FashionGo (#24), the indie commerce site Uncommon Goods (#43), and the floral relay service Teleflora (#52). (In addition to a dozen bootstrapped companies on the list, four marketplaces have funding sources that are undisclosed.)
Of the companies on this year's Marketplace 100 list that are venture-backed, 33% raised between $100 to $500 million. Surprisingly, however, there isn't a clear correlation between the amount of funding raised by the company and GMV. In fact, there are more bootstrapped marketplaces in the top 25 than in the rest of the list combined!
3.
The fastest growing category? Mental health, by a long shot.
In last year's Marketplace 100, two categories dominated the list in terms of an increase in GMV: ticketing and education. Both successes were related to the world reopening when Covid restrictions were loosened. Ticketing gained ground as events came back, post-vaccine, while education surged as students looked to make up for missed classroom time.
This year, two new categories take the spotlight: pets, and health and wellness. The growth in the pets category was driven by just one company, Good Dog (#70). Last year's fellow Marketplace 100 members Wag (#39) and Puppyspot (#79) went public via SPAC and exited via a leveraged buyout (LBO), respectively, according to PitchBook. An estimated 55% of American families now own a dog, and consumer spending on pets has doubled in the past decade.
The health and wellness category, on the other hand, contains eight companies on the Marketplace 100. Growth in this category was mostly driven by one sub-category—mental health—which is the focus of four companies on the list. If we were to break it out as its own category, mental health would take the crown in terms of year-over-year GMV growth.
The psychological impact of quarantine on mental health has been well reported, but even as the world reopens, the new normal for mental health conditions appears to be settling far above pre-pandemic levels. A CDC study in December 2021 found that 30.7% of U.S. adults were showing symptoms of anxiety or depressive disorder, compared to just 10.8% in 2019.
The good news is that new mental health service marketplaces are making it easier than ever to address this demand. Repeat Marketplace 100 members Headway (#56) and Sondermind (#80) were joined by freshmen Alma (#82) and Path Mental Health (#90). All of these products help consumers find therapists for digital or in-person appointments.
And while the first wave of therapist-matching platforms in 2010 to 2015 (like Betterhelp and Talkspace) were primarily cash pay, this next generation of marketplaces partners with major insurers to bring providers in-network. These marketplace companies allow many more consumers to access reimbursements, a crucial service when the hourly rate for a therapy session ranges from $100 to $200, depending on the state.
While the general trend for mental health marketplace spend has been rising, there is some seasonal activity. Like gym memberships, spending on mental health marketplaces spikes in the first quarter (specifically, in January), then falls back into a more normal growth trend for the rest of the year.
4.
Rescheduled shows and post-pandemic "revenge" behavior are a windfall for ticketing.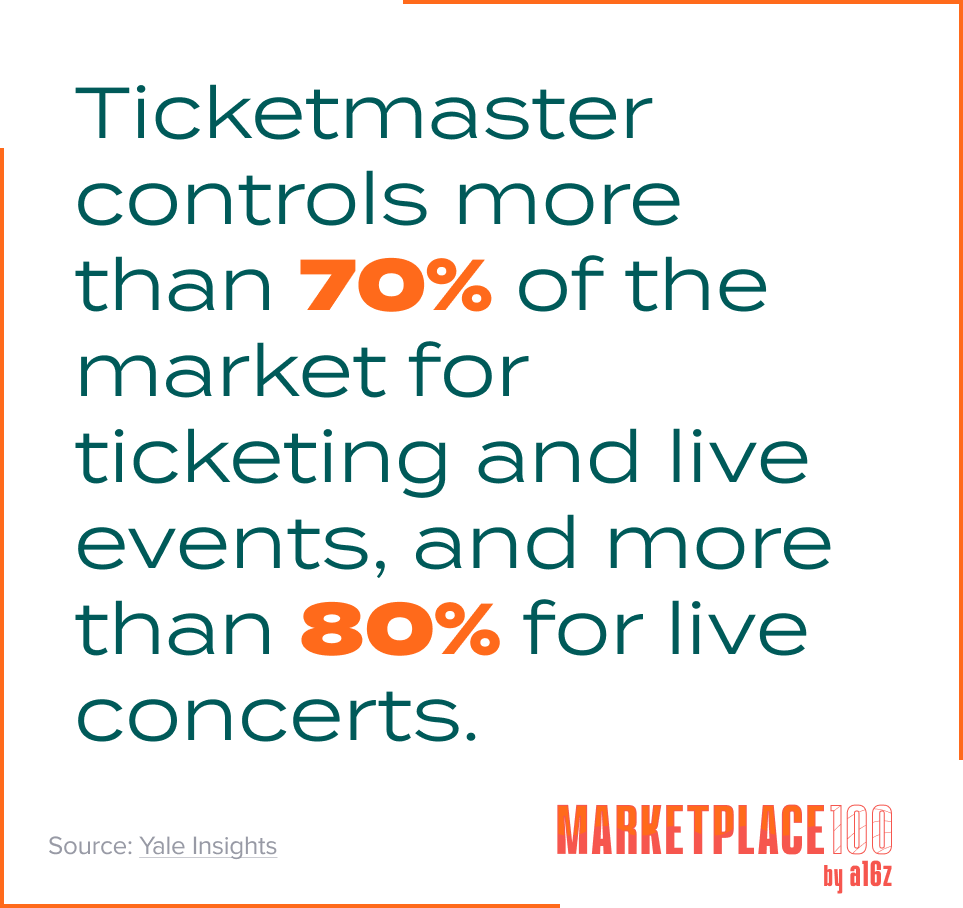 Ticketing was one of the categories hardest-hit by Covid, but business came roaring back in 2021. Somewhat surprisingly, the category continued to climb last year, with cumulative ticketing GMV from companies on the Marketplace 100 ending the year three times higher than the same period in 2019.
Undoubtedly, part of this continued growth is due to a bottleneck finally getting cleared, as many canceled or delayed events from the last two years were pushed to 2022. To give just one example: Harry Styles's "Love on Tour," which was postponed at the start of the pandemic, sold out 46 North American shows this year. This included a 15-day residency at Madison Square Garden.
And while event supply increased in 2022, demand was there to match it. LiveNation recently reported its highest quarterly event attendance ever, with a 37% increase in tickets sold compared to 2019.
This is similar to the emergence of "revenge travel," which strained airports and hotels as they struggled to keep up with new volume. Live events are one way to make up for lost time; many consumers have indicated a willingness to shift spend away from other categories towards live entertainment. Beyond the tickets themselves, LiveNation data also shows that consumers are spending 30% more at event venues, on items like concessions and merchandise, than they did in 2019.
Interestingly, this rising tide in ticketing seems to be benefiting almost every company in the category. Viagogo (#3) and SeatGeek (#4), which are both secondary marketplaces for resale tickets, lead the pack from a scale perspective, according to Consumer Edge data. However, six of the eight ticketing marketplaces on this year's list experienced greater than 50% annual growth, and four ticketing companies saw growth of greater than 100%.
Where might this be headed in 2023? The trendline is finally starting to slow for the broader ticketing category, indicating that we may be arriving at an equilibrium. In the second half of 2022, YoY growth slowed to a monthly average of 60%—still fast, but a considerable drop from the 323% monthly average in the first half of the year.
We're interested to see if some of the fastest growing ticket marketplaces can continue their trajectory next year and chip away at the incumbents, especially as giants like Ticketmaster attract scrutiny. Several of these smaller players are differentiating themselves: DICE (#44) focuses on personalized live concerts, TodayTix (#54) specializes in local theater shows, and TickPick (#28) touts more transparent pricing.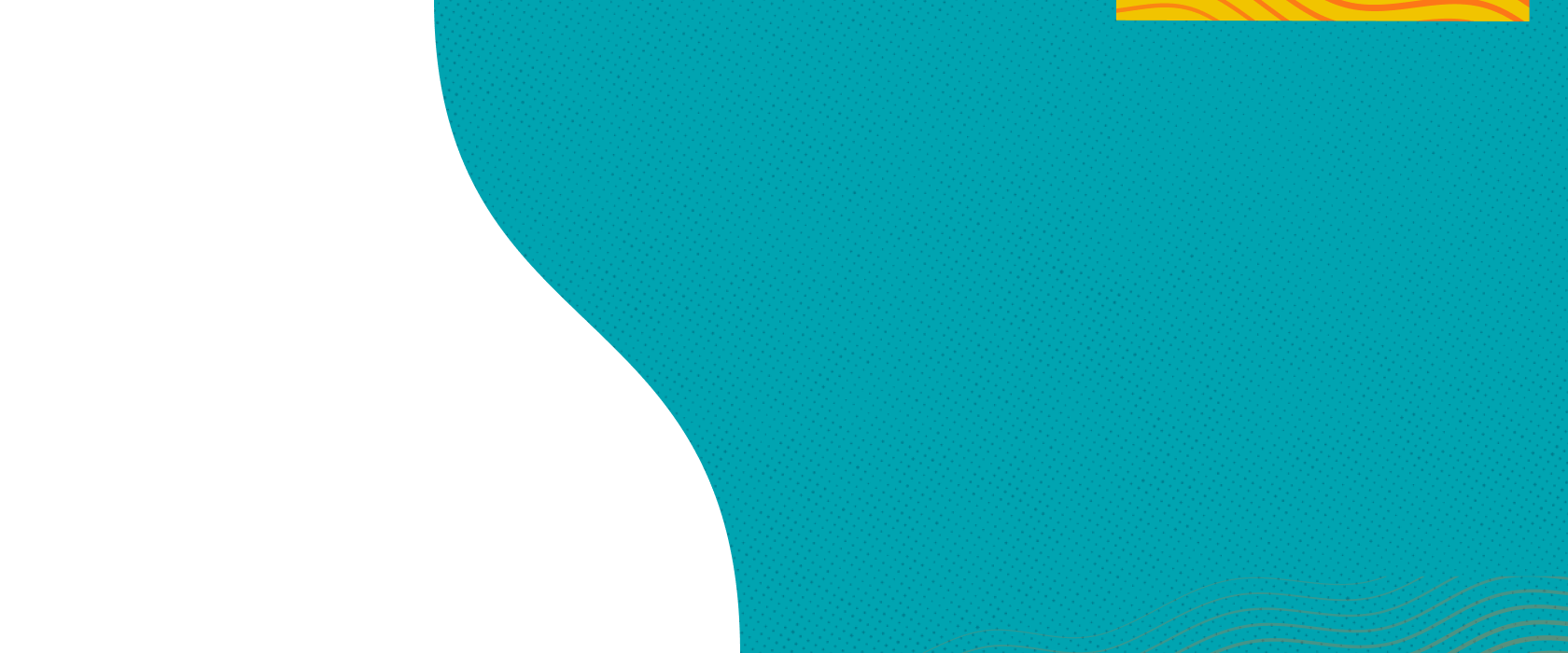 5.
From your kitchen to your closet, modern marketplaces do the filtering for you.
The first era of online marketplaces—think eBay and Amazon—was largely focused on volume of supply. To increase the probability that a consumer would find what they were looking for, it made sense to list… almost everything. The consumer was then tasked with sorting through options to find the best fit, but for companies this was arguably better than having potential buyers leave without making a transaction. Quantity was the name of the game.
Over time, as supply has "moved" online across categories, it became easier to procure inventory. Sellers often cross-list on multiple platforms, making it tough for a marketplace to win based on item availability alone. This generated a second wave of marketplaces, which still accept most supply, but add tiers based on quality. Think Uber Black, or Airbnb Plus. This allows customers to pay more if they want to access a pre-vetted option that delivers something beyond the base level of service.
Now we're entering what we see as the third wave: fully curated marketplaces. These platforms are opinionated. They admit a smaller set of suppliers based on the unique customer experience that they aim to provide. Often, this supply is exclusive to that one platform (or to a small group of them). Consumers can then shop with the peace of mind that they're getting the best of the category, reducing the need for independent research or filtering.
In the best-case scenario, this curation fosters consumer trust and loyalty toward the marketplace. For categories with natural repeat behavior (like shopping and food), this may manifest in high retention levels, as consumers come back to repurchase favorites and discover new items. For categories that more frequently see one-off purchases (like pets), this increases the potential for upsell or the attachment of other products and services—like insurance, transportation, training, and more.
Some of the fastest growing marketplaces on this year's list—as measured by annual growth in GMV—fall into this third wave. Those companies include the restaurant delivery business Locale (#77), the livestream shopping platform ShopShops (#83), and the tickets, tours, and attractions marketplace Headout (#91).
We expect to see curated marketplaces continue to pick up steam, especially in categories where suppliers are unhappy with the status quo on more open marketplaces. Food is one example of this: some restaurants feel that listing on platforms like DoorDash hurts their brand value—or worry about increasing fees. In the shopping category, Amazon is a cautionary tale in this regard. The company's fees as a percentage of product price increased from 35% to 52% over the past six years.
These shifts result in more merchants being willing to take a chance on new marketplaces that may not (yet) have the same consumer density, but feel more sustainable as a long-term partner. Unlike other marketplace categories, allowing sellers to multi-tenant (list across several platforms) may be a feature here, not a bug, at least as this new wave starts to roll. The lower-risk a marketplace can make it for a merchant to try them out, the better.
6.
Breakout brands are emerging in travel, shopping, therapy, and food.
There has been remarkable continuity in the top private marketplace companies over the past three years. Of the top 10 companies on our list this year, seven made the top 10 in 2021—and six made the top ten the year prior.
But this doesn't mean we're not seeing breakouts further down the list. Similar to Whatnot's jump from #99 to #9 in just three years, there are a few companies that are standouts in terms of growth.
Of the top 10 fastest growing companies this year, Peek.com (#14), an experiences marketplace, is notable. Peek.com helps locals and travelers find top-rated adventures near them, and provides software for experience-providers to manage their businesses. The company's growth is outpacing similarly sized peers, even at scale.
Peek.com joins Whatnot on the small list of Marketplace 100 companies that are in or near the top decile in both GMV scale and year-over-year growth. This is no small feat! As we've written in past versions of the Marketplace 100, maintaining breakneck growth at scale is massively challenging. It's much easier for companies that are just getting the flywheel going to put up impressive growth numbers, as continuing to expand a marketplace eventually requires geographic and/or category expansion.
Other top growth companies include the kids' activities marketplace Sawyer (#39), same-day theater ticket provider TodayTix (#54) and therapist matching platform Headway (#56). Finally, designer deals app ShopShops (#83), curated food delivery platform Locale (#77), and excursion-booking company Headout (#91) all made the list for the first time due to breakout growth.
While market volatility persists in 2023, we have more faith in the marketplace model than ever. The last major tech downturn produced iconic marketplace companies, such as Airbnb (founded in 2008) and Uber (founded in 2009). In uncertain economic times, consumers shift how they spend—and businesses get more creative in how they make money. Marketplaces are well-positioned to capitalize on this behavior.
Interested in more marketplace content? Check out the following from the team at a16z.
Software is eating the world.
Sign up to our new marketplaces newsletter for more