Since kicking off the Talent x Opportunity (TxO) Initiative, we have invested in 27 companies building products and services based on unique cultural insights. The founders we backed and continue to support have taken tremendous strides from initial ideation to accelerating their businesses by growing full-time headcount, strengthening go-to-market strategies with key partnerships and collaborations, and earning recognition for their breakthrough brands and sales.
We continue to be motivated by the many impressive founders we meet during our selection process and this new cohort is no exception. The Spring 2023 cohort is an ambitious, driven group, ranging from a founder tackling the grave issue of mortality in Black women during childbirth to founders exposing children to financial literacy at an earlier age.
Our work has only begun! Meet the newest TxO founders to join our growing community:
Brent Craige, Donovan Williams and Marlon Butler (Jammaround)
Brent Craige, and Donovan Williams are New Orleans natives who met as teenagers after Hurricane Katrina and built a working relationship post-college due to their mutual love of music. Brent met Marlon Butler, who hails from Huntsville, Alabama, at Tuskegee University while pledging a fraternity. The pair began working on many creative projects, like award shows, public access talk shows, and an independent record label. While working on the latter, they discovered supply chain issues, so they tagged Donovan, who had technical expertise, to launch Jammaround, an app for music creators to easily meet collaborators and compose music faster and more securely.
Courtney Pettway and Darius Pettway (KidVestors)
Courtney Pettway and Darius Pettway are a married duo that met while attending Auburn University at Montgomery. Post-graduation, they each entered their respective professions but quickly realized it was not the life they wanted to live. As a result, they decided to start flipping houses and began documenting their entrepreneurial journey on social media, which organically gained over 70K followers. The Pettways realized their followers were very interested in the subject of personal finances because most of them had never learned or talked about it growing up. This led to the launch of KidVestors, a financial literacy curriculum for K-12 students, to teach kids about investing and personal finance.
Day Edwards and Emmanuel Brown (ChurchSpace)
Day Edwards, a Texas native, and Emmanuel Brown, a New York City native, met through a webinar on startups and immediately bonded over a shared mission and passion to impact and connect communities. Both founders are pastors' kids, so naturally, they started a streaming platform to allow churches to stream their services during the early days of the pandemic. The contracts from the platforms were eventually acquired by Faith Media One. Still focused on improving operations for churches, Day and Emmanuel decided to start ChurchSpace, a digital marketplace that turns underutilized church real estate into on-demand kitchen, event, work, and meeting space.
Erick Mathelier and Michelle Spiro (FURI Sport)
Erick Mathelier and Michelle Spiro are both New York City natives. Erick took up the sport of tennis at an early age and it provided him access to a vision of life beyond Brooklyn, NY. The sport earned him a D-1 college scholarship but he realized there was a lack of racial diversity in the sport. In an effort to make the sport more appealing to people who looked like him, he decided to partner with Michelle, who has vast experience in retail, and launch FURI Sport, a gear and apparel brand with the mission of reimagining and making sports, beginning with tennis, more inclusive.
Lane Petrauskas (Skorch)
Lane Petrauskas was born and raised in Chicago, IL. As a millennial, Lane and her friends struggled to find cool things to do in Los Angeles, which prompted her to come up with an idea called "Scene", where she would crowdsource cool events happening in the city. She eventually realized that since the "Scene" was not real-time, some of the places she listed as cool fell short when people reported back. As a result, she pivoted and created Skorch, the realtime app to take the tediousness out of finding the best restaurants, bars, coffee shops and attractions.
Luis Barrera, Gibby Steier and Eliot Smith (Splyt)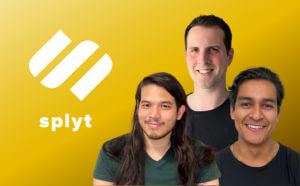 Luis Barrera is originally from Peru, where, as he describes, "food and moments around the table mean everything," which in his experience was opposite to what most of his peers experience when dining out. This is because splitting bills equally leads to some feeling like they overpaid and others feeling embarrassed because they couldn't afford to split them conveniently. To bring joy to dining, Luis teamed up with Gibby Steier and Eliot Smith, to launch Splyt, a dining app that aims to take the stress out of dining with friends, starting with a restaurant bill.
Mohamed Kamara (InovCares)
Mohamed Kamara was born in Sierra Leone and left at the age of 9 because of the civil war. As a child, his sister passed away during childbirth in Sierra Leone and he later experienced the loss of another family member, this time, his aunt during childbirth. Both of these losses left an impression on him and he was determined to one day find a way to improve the health of women of color. After a stint as an accountant, Mohamed transitioned into the health space and launched InovCares, a culturally sensitive virtual OB-GYN clinic for women and families of color focused on telehealth services including specialized point-of-care testing and referrals for maternal health issues such as hypertensive disease, hemorrhage, infertility, and infection.
Sage Salvo (Words Liive)
Gil Perkins aka Sage Salvo was born in Northeast D.C. As a child, his parents moved to Virginia to get him into a better school district. He eventually went on to attend the University of North Carolina at Charlotte and worked in sports before pivoting to education as a lecturer at Howard University. While at Howard, he noticed many freshmen were not able to form coherent arguments in their essays or used slang throughout their assignments. This, coupled with his previous experience of being underserved by the public school system in the D.C., Maryland, Virginia areas always made him interested in how to apply culture to effectively educate students, which prompted him to start Words Liive, a reading app for teachers struggling to engage students in effective literacy lessons.
Taylor Long (Nomads)
Taylor Long was born and raised in Louisville, KY. She played competitive school and AAU volleyball throughout her childhood and into high school, which led her to receive a full athletic scholarship to Jacksonville State University in Jacksonville, AL, to play D-1 volleyball and study Fashion Merchandising. She would later transfer to University of Cincinnati where she obtained a BS in Fashion Design and also began working as a plus-size model after being signed by Wilhelmina Models. During her time in design school, she noticed the lack of inclusive design taught within the fashion industry and its institutions. As a result, Taylor designed and launched Nomads, a swimwear brand focused on everything she didn't see on the market – luxury, size-inclusive and sustainable.