We've entered the age of generative AI. The use cases are everywhere—from writing essays to creating comics to editing films—and adoption has outpaced every consumer tech trend of the past decade. Text generator ChatGPT surpassed 1 million users in just five days, and tens of millions of consumers have created AI avatars.
Whenever new technology captures consumer attention so quickly, it begs the question: is there real value here? We believe that the answer is undoubtedly yes. Generative AI will be the next major platform upon which founders build category-defining products. 
Much as the iPhone revolutionized our daily interaction with technology—spawning products like Uber, DoorDash, and Airbnb—generative AI will change everyday life. 
One of the most powerful things about AI is that it enables products to personalize the user experience. The early applications of this have been in edtech and search—if you're explaining why it rains, you'll use different language for an eight-year-old than for a high school student. We expect that this kind of customization will be a core value prop of many AI-enabled products.
Here, we explore the main consumer categories where we see opportunity. In subsequent posts, we'll delve deeper into each of these areas and share the questions we're asking as we evaluate consumer AI companies.

Language models have the potential to revolutionize one of the core functions of the internet: search. 
We've all experienced the struggle of typing a question into Google and getting overwhelmed by a flood of links, some of which have conflicting or inaccurate information. It's quite literally an endless scroll. What if you could get a single, concise answer written in natural language, with links to read more if you're interested? LLM-powered search engines make this possible. 
Companies like You and Neeva are doing this for general search queries. Others are taking a more verticalized approach: Consensus searches across research papers to provide evidence-backed answers, while Perplexity's Bird SQL product targets the Twitter graph (e.g., "Most popular tweets about Golden Globes fashion").
This type of search is particularly valuable for product recommendations. Today, making an informed purchase often requires sorting through dozens of links and hundreds of reviews. What if you could get a curated list of options based on your specific needs? Some potential prompts, for example: "Best dog food for a six-month-old labradoodle with a sensitive stomach" or "Camel-colored coat for New York winter that costs less than $250." 
In addition, we see significant potential in enterprise-oriented applications for internal search. Most companies now use a number of communication apps and databases, such as Gmail, Slack, Drive, Asana, and more. Finding a single document, message, or metric across all these tools can be a challenge. Products like Glean allow teams to search across apps, while Vowel enables users to query records of their video meetings.
Edtech has long struggled with the trade-off between effectiveness and scale. Build something that works for the masses, and you lose the personalization that engages the individual. Build something that perfectly meets the needs of an individual, and it's too expensive to scale.
With AI, this is no longer true. We can now deploy individualized learning plans at scale, giving each user a "teacher in their pocket" who understands their unique needs and can answer questions or test their skills.
Imagine an AI-powered language teacher who can converse in real-time and give feedback on pronunciation or phrasing. Speak, Quazel, and Lingostar are already doing this! We've seen products that teach new concepts or help learners get "unstuck" in almost every subject. Apps like Photomath and Mathly walk students through math problems, while PeopleAI and Historical Figures teach history by simulating chats with prominent figures. 
Beyond learning specific subjects, students are leveraging AI assistants in their assignments. Tools like Grammarly, Orchard, and Lex help students beat writer's block and "level up" their writing. Products that tackle other forms of content are also becoming increasingly popular in high schools and colleges across the country—Tome and Beautiful.ai, for example, assist in creating presentations.
Learn more about the future of learning in the age of AI here.
We don't believe that technology will ever fully replace human connection. But it can make us feel less alone. It's incredibly powerful to have a conversation with someone who listens to you and responds, and AI chatbots can play this role.
For early evidence of this, check out the subreddits of AI chatbot products like Replika,  Anima, and CharacterAI. Many users find real meaning in their relationships with these bots, spending hours each week in conversation. The consistency of use already rivals Gen Z's Snap streaks.
AI can also augment or even spark human relationships. Tools like Millie and YourMove optimize dating app profiles and messages, while apps like Mumkin help users navigate difficult conversations. Eventually, we may all have an AI chatbot that reminds us when it's time to check in with friends and family, and prompts us with the perfect message to send.
Finally, AI can help us connect with people who are no longer around or available. Have you ever wished you could hear one more story from a family member who has passed away, or that you could get a piece of advice from someone you haven't spoken with in years? Some have already experimented with this. It's not hard to imagine a world where we all have an AI-powered "digital twin" trained on all of our writing and, eventually, speech. For some, this exploration is already underway.

We also expect to see more professional, even clinical, use cases for AI chatbots. AI-powered therapists, nutritionists, coaches, and mentors will make personal and professional development less costly and more convenient for millions of consumers worldwide. It's a digital support system that's available 24/7—users can just open an app to ask a question or start a conversation. 
Early research has found that chatbots can be effective in treating mental health. Products like Woebot and Wysa have demonstrated clinically validated results and have received FDA designations for efficacy in treating conditions like postpartum depression, chronic pain, and anxiety. In a time when more than 25% of adults suffer from a diagnosable mental health condition and we're experiencing a nationwide shortage of therapists, chatbots may be a feasible solution for non-acute cases.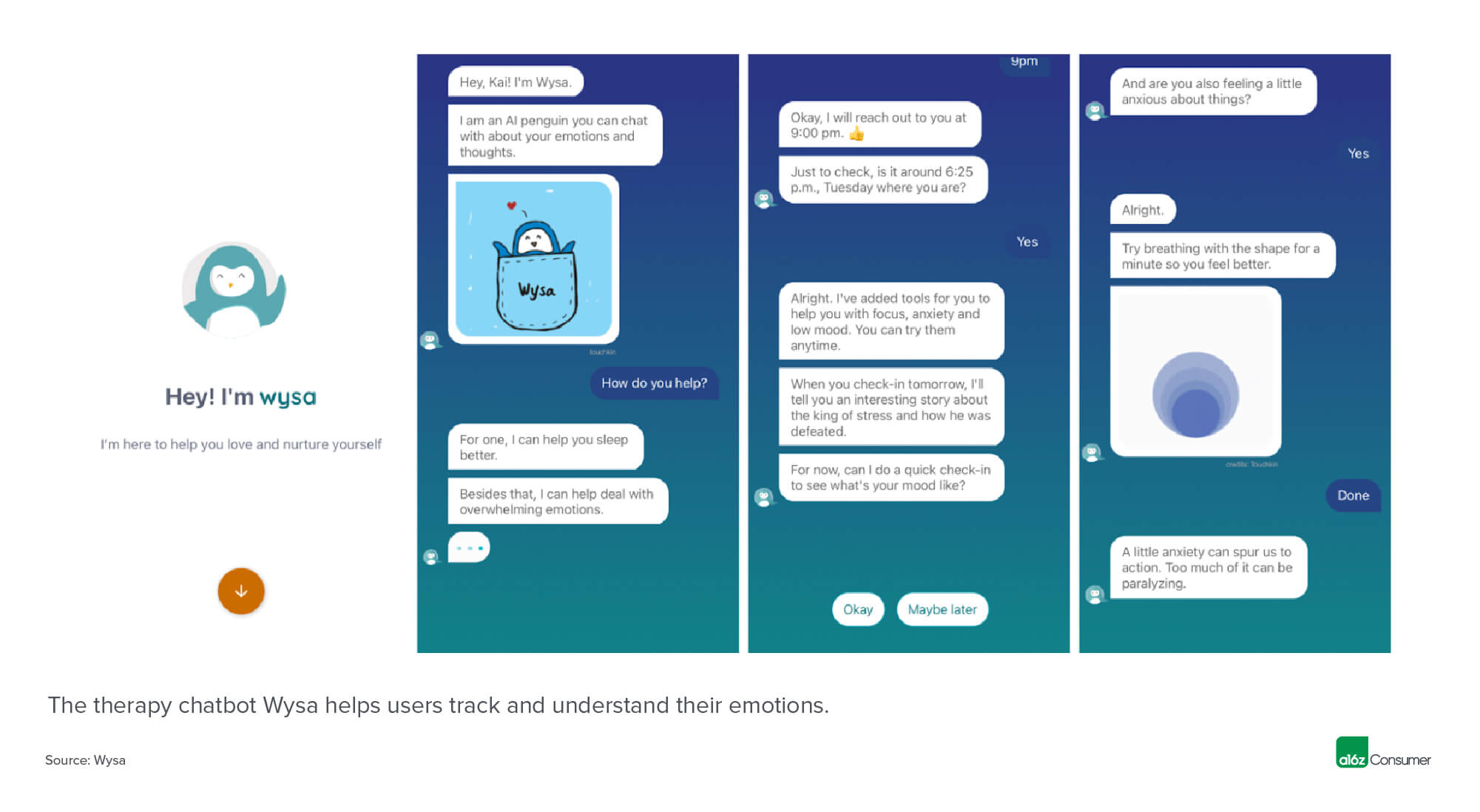 Outside of healthcare, we've started to see the emergence of other AI-powered tools and coaches that are purpose-built to assist with specific tasks. InterAlia can help you put together an outfit, Prodigy AI can give you career advice, and Poised can improve your communication skills, to name just a few examples.
It's not outlandish to believe that one day, we'll all have a personalized chatbot that understands the unique context of our lives. When facing a life change—like divorce, going to college, or having children—we'll be able to get advice delivered in whatever way resonates. And we'll be able to ask for support or guidance around goals we're trying to achieve, whether it's exercising more or improving our financial health.

Generative AI allows us to turn our imagination into reality—when done well, this feels nothing short of magic. Content creation has been the first mainstream use case of generative AI, as we saw with Lensa. Remember when your social feeds were flooded with pictures of your friends depicted as superheroes, astronauts, and anime characters?
Portraits were just the beginning. Generative AI products will serve a variety of use cases, from consumers making content "just for fun," to creators or solopreneurs monetizing content. We've seen generative AI tools roll out across almost every medium: 
In time, we're likely to see more professional-grade generative AI products emerge.
Today, many AI tools have glitches (a third arm that pops up in a photo!) or take a long time to process requests. This is fine for most consumers, but more frustrating if you're trying to monetize the content. To serve those power users, we expect many companies will add "pro" tiers with higher quality service—as ChatGPT has already done.

AI is likely to play a major role in games, which our partners have written about extensively. Generative AI will make it easier, faster, and cheaper to produce quality games, while enabling players to truly customize their gameplay.
The most popular games cost millions—sometimes even hundreds of millions—to produce. Aside from the storyline of the game, developers need to generate thousands of media assets, from the graphics themselves to 3D models to soundtracks. 
The lifeblood of these high quality, AAA games is the work and vision of human artists. It's unlikely that AI will completely replace them. However, we think AI will turbocharge these artists and their teams, enabling them to use their time more efficiently and get games out faster and with lower costs.
We're already seeing AI tools like Scenario and Iliad that create game assets, as well as platforms like Promethean that can build entire virtual worlds. You can even generate non-player characters (NPCs) with products like Inworld, Charisma, and Convai. 
Not only will AI propel the creation of more games, but it will advance a new type of game that is more dynamic and personalized to the preferences of each gamer. We've already seen some early examples of this with text-based games like AI Dungeon and Hidden Door. Imagine entering a game and being able to design a sophisticated custom avatar with just a few sentences. Eventually, this may expand to entire virtual worlds you can create from scratch.
Tools serving small businesses will be a killer use case for generative AI. There are 32 million small businesses in the U.S., and they represent more than half of net new jobs created since 2000. They play a crucial role in our economy, but they're often short-staffed and overwhelmed, especially given recent labor shortages.
AI tools can make an immediate impact for many of these businesses. An extra set of hands—though they may be blurry!—is invaluable. The AI tools, and corresponding use cases, are multiplying: Sameday can answer the phone and book appointments; Truelark can handle texts, emails, and chat; Osome can manage the back office; and Durable can create an entire professional website.
Many generalist content creation tools like Jasper, Copy, and Writer have gained meaningful traction among SMBs. But we've also started to see verticalized tools that are tailor-made for the workflow of specific types of businesses. Products like Harvey and Spellbook, for example, help legal teams automate tasks like intake, research, and document drafting. In real estate, Interior AI enables agents to virtually stage their properties, while Zuma helps property managers convert leads to booked tours. 
In this realm, one of the most fruitful verticals has been ecommerce. Most of these businesses operate entirely online, which makes it easy for them to integrate AI tools into many parts of their workflow. And in a world of rising customer acquisition costs, brands are eager to try products that might help them lower costs, convert more shoppers, and increase retention. 
Tools like Flair, Booth, and Bloom help brands create compelling product photos, which are incredibly important as businesses sell to online shoppers. A static photo of a dress on a hanger can become an image of a woman walking through a garden in the dress. We expect that these uses will eventually become hyper-personalized: a landing page for a couch will feature photos of it in your apartment.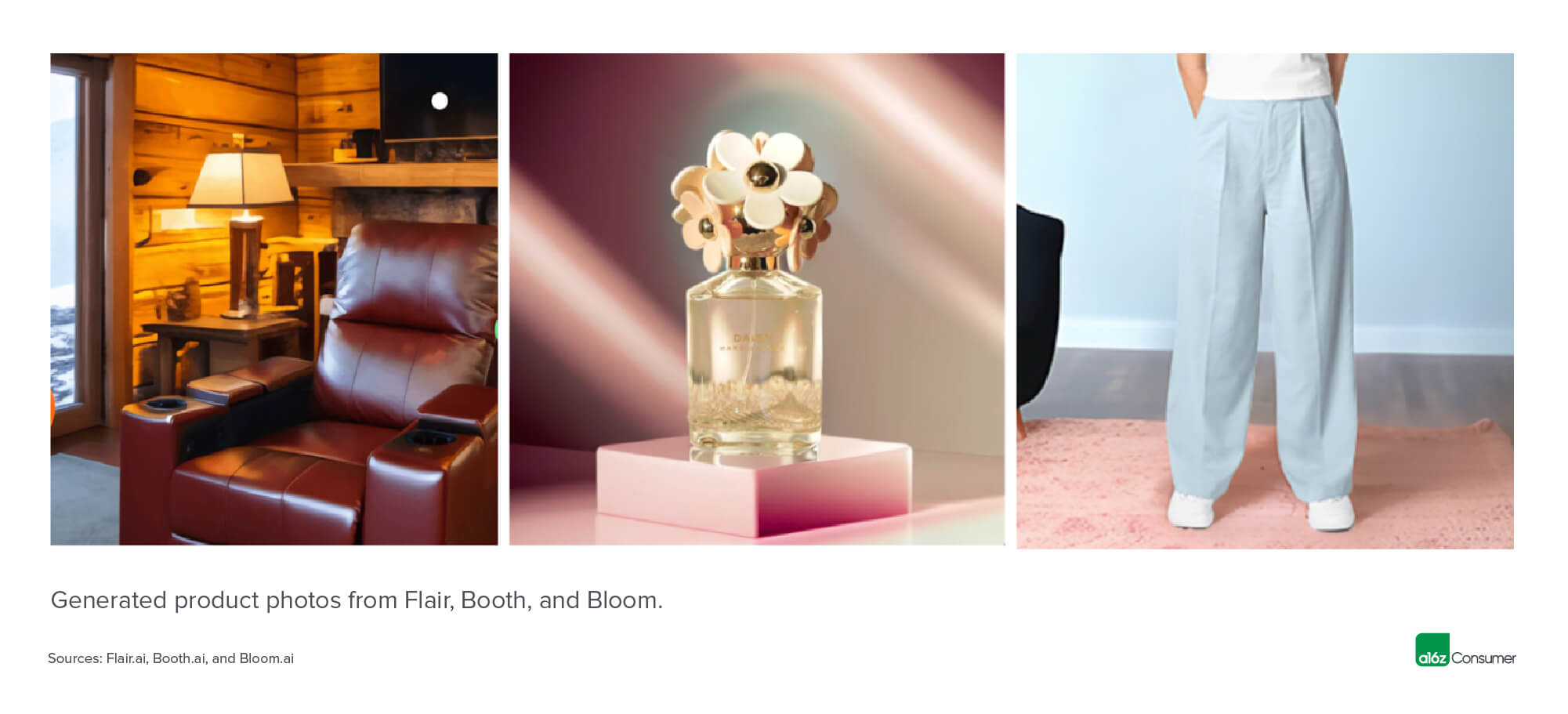 Beyond product photos, brands create many types of content that can now be supercharged by AI. Products like AdCreative and Pencil can produce marketing collateral for email or social media, while Frase or Writesonic can write SEO-optimized product descriptions. Eventually, we expect users will be able to create an entire ecommerce store—and the materials to market it—by simply describing their desired aesthetic and clicking a button.
We're still in the early phases of the generative AI revolution, but we're excited to share how this technology will impact how we work, learn, create, and play. In the coming days, we'll be taking deeper dives into AI's impact on these consumer categories.
* * *